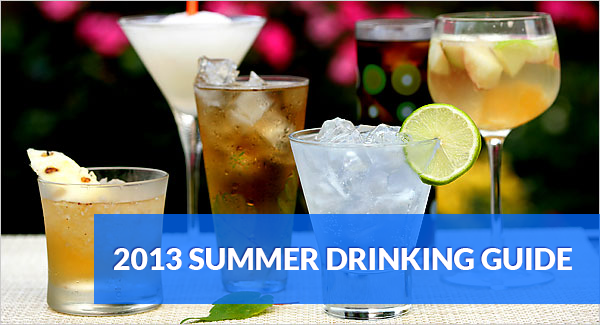 It's always been my philosophy that summer drinking is the best drinking. In winter we do it to stay warm. In spring and fall, we drink to pass the seasons. But in summer, that's when the real fun happens. So to kick off this summer season, I wanted to make sure I brushed up on my drinking etiquette and shared the findings with all of you.
Behold, the ultimate recipe for summer boozing:
Part 1: How To Order Your Drinks
Ever hear someone order a neat whiskey, on the rocks? I have, and its damn embarrassing. It's time to brush up on your basic bar jargon (bargon?) so you don't sound like a jabrone when ordering your drinks.
1. Naming Your Drinks - When ordering drinks, always start with the type of liquor, followed by mixers, followed by extras. This will eliminate a ton of confusion, especially when getting complicated drinks or multiple orders. If ordering a specific brand, replace the liquor with the brand name.
Good Examples: Tanqueray and Tonic with Lime, Vodka Cranberry, Jack and Coke, Double Vodka Red Bull (double the vodka!)
Bad Examples: Club Soda with Lime and Vodka, Double Red Bull Vodka (unless you want twice the Red Bull), Coke and Captain
Be wary of drinks with nondescript names like "Pain Killers" or "Mind Erasers". Different bartenders might have different interpretations of the same drink name. If you want your cocktail made a certain way, don't be afraid to ask.
2. Drink Quality - When you order a drink without specifying the brand, you're likely to get a "well" drink. These are made with the cheapest booze behind the bar and are typically more affordable.
A "call" drink features a specific brand and is often served with mid-range liquor (think Jose Cuervo Margarita.) If you have a real job, consider switching from well to call drinks. Your hangover will thank you tomorrow.
And for my players in the house that can buy the bar, consider ordering Premium or Top Shelf drinks (think Patron.) A night spent tossing back Patron shots or sipping on Macallan 18 can lead to you waking up in a stranger's bed or waking up in a dumpster outside New Mexico. Either way, you got there with class.
3. Special Requests - These are the fancy monikers attached to drinks that separate the pro drinkers from the noobs. Simply memorizing the below terms will instantly up your street cred.
On The Rocks: A drink served over ice
Chilled: A drink served cold (shaken with ice and strained into a shot glass)
Blended: A frozen drink mixed with ice in a blender (margaritas, pina coladas)
Double: Twice the amount of liquor
Tall: Poured into a tall glass with extra mixer (don't mistake this for a double!)
Neat: Straight liquor poured into a sipping glass without ice
Up: Chilled liquor strained into a martini glass
Dirty: A martini with olive juice
Dry: A martini with dry vermouth
Sweet: A martini with sweet vermouth
With a Twist: Usually a spritz of lemon or lime juice
I guarantee you instantly feel more confident getting your summer drinks now that you know how to order like a true American. Now it's time to explore some of our favorite summer beverages.
Part 2: The Top 6 Summer Drinks
This list was originally comprised of my top 3 beverages, until I realized how much of a drinking enthusiast I am (I also enjoy euphemisms.) You'll also notice I don't have any "Fuzzy Navels" or other ridiculous drinks on here, because ordering anything similar is akin to shaving your legs and carrying a satchel. Just…don't.
1. Fireball Chilled: One of the hottest drinks of summer, Fireball is universally loved and admired by every person who enjoys fun. The love child of Big Red Gum and a barrel of whisky, Fireball is hands down my favorite summer shot. The company slogan sums it up pretty well: "Tastes like heaven, burns like hell."
2. Firefly & Lemonade: Not to be confused with the above-mentioned Fireball, Firefly is a masterfully crafted sweet tea flavored vodka brewed with summer in mind. Mixing up some Firefly with lemonade will give you a dirty Arnold Palmer, which is quite possibly the most refreshing trip to drunk city that I can think of. Bonus points: Order a John Daly at the bar, and if they get it right on the first try tip an extra few dollars. You'll want to stick with that bartender for the rest of the day (yeah, I said day.)
3. Brojito: OK, so you're going to get some blank stares if you order this at the bar, considering it doesn't really exist. A classic mojito (rum, mint, sugar, lime, club soda and ice) is hands down one of the most delicious summertime drinks you can order. Its also a pain in the ass for bartenders to make, since it requires muddling the mint into the glass. The brojito simply replaces the standard rum with 100 proof Captain Morgan so you get more kick out of each cocktail. The less work you give the bartender, the more awesome you will be.
4. Long Island Iced Tea: I imagine the LIT (don't ask where the other "I" went) was invented by someone that took the term "mixed drink" way too literally, and decided to mix every major liquor category into a single glass. The result is a dangerous combination of numbing deliciousness and cloudy memories. For you first timers, it's basically a glass full of rum, vodka, gin and tequila with a spritz of cola (for color) and a twist of lemon (and sometimes made with sour mix or triple sec.) One gets you buzzed, two get you drunk, three get you black out and four get you arrested. Plan the rest of your night accordingly.
5. Dark & Stormy: Rum strikes again. While there are certainly other more popular drinks I could have gone with on this list (margaritas, pina coladas, etc.), I felt this classic summer drink was too unique to be ignored. A traditional Dark & Stormy is made of Goslings Dark Rum, Ginger Beer and a lime garnish. Unfortunately  these ingredients don't translate well into other drinks, so you'll have to commit to having a few of these heavy cocktails if you choose to take the plunge into drunken deliciousness. But don't just take my word for it – trust Devin Jones on this one.
6. Any Light or Yellow Beer: Don't get me wrong, I'm a big fan of heavy craft beers. I'll rip through a case of Dogfish Head in the fall. There's just no place for them in the summer time. Instead, shitty light beers like Miller, Bud, and Coors reign supreme, with island favorites like Corona, LandShark and others coming in close second. Do they taste great? No. But when the sun is beating down hot and you're sweating out drinks as quickly as you drink them, light beer is an easy winner over its heavier counterparts.
Part 3: Damage Control
I hope the first two parts got you excited for summer. Hell, I'm tempted to crack open a cold one right now and get this party started. Yet as we all know by now, drinking too often has its costs. Things like "jobs" and "money" and "chronic liver failure" keep us on the wagon most of the time. Don't fret though; there will be plenty of opportunities to get your liver wet this summer, as long as you practice a few rules to limit the damage from your drinking escapades.
1. Hangover Prevention
I feel like the older I get, the longer my hangovers last. I had one recently that spanned two full days. TWO FULL DAYS. Needless to say, it was terrible.
The best way to get rid of your hangovers is to do your best to prevent them. A few ways to do this include:
Stay super hydrated this summer. Drink 10+ cups of water a day if you can handle it. I try to drink a gallon or more.
Eat healthy. Hangovers are the result of dehydration and nutrient loss. Eating fruits and green veggies daily will help you keep body full of precious vitamins, minerals, etc. This also prevents a condition called "fat". Also, eating lean protein (like chicken) is helpful before you drink.
Avoid too many sugary mixers. Sugar = terrible feeling the next day. I prefer to mix my drinks with club soda and a twist of lime, or stick with beer to avoid the really brutal sugar hangovers.
Drink better quality liquor. Want to know why Popov is $14 for half a gallon? Because it's rocket fuel. Spend a few extra bucks and save yourself a day of misery.
Order water throughout the night to keep hydrated. I try to order one glass of water for every two drinks. Don't worry, you will still get hammered since you are putting in the same amount of alcohol into your body – its science (I think.)
Know your limits. OK, I fail every single time at this. But I'm told that knowing your limits is helpful in hangover prevention. I'll let you know when I get this technique down.
2. Poverty Prevention
Unless you're a Hilton or Kardashian, chances are you can't go out every night because you have real bills to pay. A night out can quickly add up to $60, $80, $100 or more depending on where you live. To make sure you don't end up homeless and broke, you'll need to budget your boozing this summer while still having fun. This can be done a few ways:
Pregame. If you don't do this, you're dumb. Next. 
Know the specials. Find bars that have good deals and stick with them to save some dough. It takes less than 5 minutes on your phone to look up local bar specials, unless you have a flip phone, in which case you might have to actual call someone (do people still make calls on phones?)
Don't buy rounds of shots. It's midnight. All of a sudden you have a new found love for all your best friends. So you buy a round of Patron to thank them all! See ya later $50! There is no faster way to bleed money than to buy rounds of shots. Its fine once in a while, but don't make a habit of it.
Stick to a budget. In my opinion, having a strict budget is the best way to maintain a fun lifestyle over the long term. Figure out exactly how much money you can afford to spend each week on fun and stick to it religiously. Sites like Mint.com can even text you when you reached your limit, so you know when to stop.
Never go to 711 after a night out. You will end up buying taquitos, cigarettes, gummy worms, and a bag of other things you're destined to regret tomorrow morning. Avoiding these unnecessary costs can make a big difference in your bank account.
Well folks, that's all I've got for you. Memorial Day Weekend is in sight, and now you're ready for 10-12 weeks of sun soaked debauchery.
Did I miss anything important? Let me know in the comments!