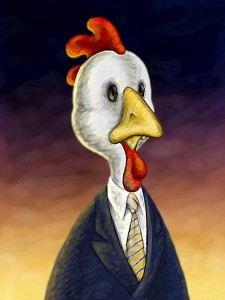 Hi everyone, my name is Steve Murphy, and I'm a chicken entrepreneur. A chicken entrepreneur is defined someone who is interested in starting a business, but is too "chicken" to quit their full time job and forego a steady paycheck. I happen to love my full time  job, but we'll stick with the label to spice things up a bit.
For the past two and a half years, I've been slowly building my own small business marketing company from scratch. It started as a way to supplement my income, but soon snowballed into an addictive lifestyle that I would never give up. It has inspired me to take risks, fail faster, and learn from my mistakes. Since starting my business, I've become a much more mature person, and both my personal and professional lives have benefited tremendously.
I'd like to convince you to also become a chicken entrepreneur. Below I'll list some of the perks for starting your own business on the side, and then will present you with a unique proposition if you choose take the next step.
Here are the four benefits to becoming a chicken entrepreneur:
1. It Keeps You Sharp
"Hey bro, I can't start a  business on the side, my boss wouldn't like that very much."  Its sickening how often I hear this used as an excuse. Entrepreneurship is the cheapest and fastest form of education availables, and most bosses would surely opt for this over a $60,000 MBA program. Starting your own business forces you to pick up new skills and brush up on old ones, helping to you to sharpen your abilities and become more valuable as an employee. Growing my business has encouraged me to learn sales, public speaking, graphic design, web development and numerous other skills that I've taken back to my full time job. This has accelerated my personal growth along with the growth of the company, and at virtually zero cost to my employer. Can you say win-win?
2. Think Like A Manager
When you own your own business, you change your perspective on how business works. You realize that every single penny is precious, and that time is worth even more than money. This will completely change the way you work, and have a major impact on your full time job. Its much easier to attain a promotion when you already have the mindset of a manager. While many of your coworkers will be content in their day to day activities, you'll constantly be striving for more, because that's what entrepreneurs do. They extract more from less, and achieve great success in the process. Combine this with reason #1 above, and your boss will be ecstatic.
3. Accelerate Your Networking
Let's flip the coin for a minute and assume your full time job sucks. You're stuck in a rut, and your endless search for jobs on Craig's List has come to a screeching halt. But there's a much better way to find a new gig than scouring job boards all day, and its called networking. Engaging with real people will produce much higher results than passively waiting for an opportunity to drop into your lap. Entrepreneurship requires you to build meaningful relationships with a diverse group of customers, vendors, and partners, who may be able to help you find meaningful full time work. I'm confident that if something ever happens to my full time job (knock on wood), I'll be able to leverage the connections I've made through my business to find another job that matches my interests and goals.
4. It's Fun
The three reasons above are all great benefits from part time entrepreneurship, but you should only start a business you have fun doing. Don't start a landscaping company if you're afraid of spiders (full disclosure: I'm deathly afraid of spiders.) If you're terrible at math, running a part time tax preparation service is probably a bad idea. The best businesses are built out of passion and excitement, because its much easier to stay up past midnight doing what you love than it is to stay up late working. I can honestly say I love what I do, and that's what pushes me to work more, sleep less, and sacrifice nights and weekends to meet deadlines.
My Proposition To You
As I mentioned earlier in this post, I have a proposition for anyone out there who is ready to take the next step towards chicken entrepreneurship:
Write a 2-3 paragraph summary of what you plan to do, why you want to do it, and how you plan on pulling it off.
Send me an email at sbcmurphy@gmail.com with the subject line "Chicken Entrepreneur."
If your response is genuine and sincere, I will take the time to help you plan and start your side business.
I assure you this isn't a pitch, and there are no strings attached; it's just people helping people. I firmly believe in the statements above, and I'm willing to put my reputation, time, and experience on the line to turn you into a believer as well.
I hope some of you are up to the challenge, and I look forward to hearing back from you!